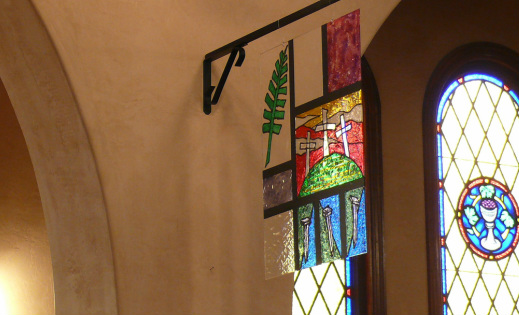 LUTHERAN MINISTRY TO NURSING HOMES
Together with three other local Lutheran congregations, Trinity supports a ministry to four nursing homes in Oakland and Alameda. Pastor Ned O'Donnell ministers to both residents and staff, organizing worship services, delicious dinners prepared by the congregations, volunteer visitors, and other events. He is available for counseling and advocacy, and influences the various homes in offering consistent and valuable care.
WE ARE OAKLAND BENEFIT CONCERT
In 2017, the Trinity Music Ministry began hosting the annual WE ARE OAKLAND Benefit Concert. It's a one-of-a-kind event showcasing some of the Bay Area's top talent, all to raise money for local organizations serving youth, seniors, and those experiencing homelessness in our Oakland community. We added an annual holiday benefit concert in 2019, and produced three fully virtual concerts during the pandemic. In December 2021, we hosted our first in-person event in nearly two years and raised money for the Alameda County Community Food Bank!
Most recently, we held our 7th Annual (11th overall) WE ARE OAKLAND Benefit Concert on Friday, June 2, 2023 and raised $7,623 for the Mental Health Association of Alameda County (MHAAC). In total, our events have raised over $55,000 for those in our community who need it most.
DIAPER BAG PROJECT
Once a year we put together diaper bags, complete with newborn supplies, to give to unwed mothers through various local social service agencies. This year we've been gathering items throughout July and August. On Sunday, September 15th, we fill the diaper bags and get them ready for distribution to teenage mothers!
NEIGHBORHOOD NIGHT OUT
For the last several summers we have had the pleasure of sponsoring a picnic with the National Neighborhood Night Out program on the first Tuesday in August. Folks from the neighborhood come and enjoy great food, a live band, and lots of conversation. It's a great way for neighbors to get to know each other. This year the event is on Tuesday, August 6th, from 6 – 9pm, and is part of nearly 600 neighborhoods in Oakland that annually register to be part of the celebration!
TRUNK-OR-TREAT
In 2017 we inaugurated our first Halloween night Trunk-or-Treat event in our parking lot. Members decorated their cars and gave out candy and non-candy items, such as books, pencils, and small toys, to our neighborhood trick-or-treaters. While this first evening was small we are aiming to enlarge , adding more decorated vehicles and games and refreshments, and increase participation of the entire neighborhood community in years to come!
PARTNERSHIP WITH PACIFIC LUTHERAN THEOLOGICAL SEMINARY
We provide parish experience for first- and second-year seminarians, encouraging and challenging them as they prepare to become religious leaders. We ourselves also take advantage of the many learning opportunities available at Pacific Lutheran Theological Seminary (PLTS).
PARTNERSHIP WITH OAKLAND HIGH SCHOOL
Our congregation is on the same block as Oakland High School, the oldest high school in the city. Every day students use our front and side steps as a place to eat, congregate or wait for rides. We seek to be good neighbors with this important institution.
SHARING SPACE WITH OTHER CONGREGATIONS & ORGANIZATIONS
We welcome the partnership of Oakland Yiu-Mienh Baptist Church as they share our building for Sunday worship and other activities throughout the week. We support their mission work here and in Southeast Asia.
We also welcome Wee Li'l People, a separate corporation, which operates a full-time daycare and preschool, Monday through Friday, in our social hall, serving the needs of many low-income households.
In addition, we welcome the use of rooms in our facility by local government, non-profit and neighborhood groups, on a space available basis. Our facility is also available for weddings. If you'd like more information, please drop us a note.